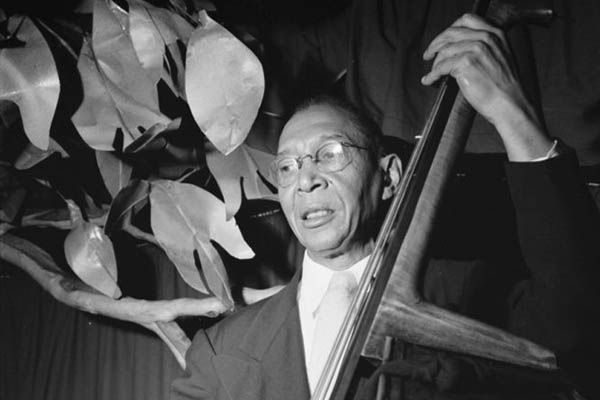 Hello bassists!
Today is the birth anniversary of George "Pops" Foster. From a slap bassist's perspective, it seems like this should be a national holiday. Let's celebrate it as one!

Pops Foster was born in 1892 on McCall Plantation in Ascension Parish. He began as a cellist playing in a trio with his older brother and younger sister. In 1902, he moved with his mother to New Orleans. By 1906 he was playing bass; two years later, he joined the Magnolia Band. From there, he moved through St. Louis with Charlie Creath and Dewey Jackson then on to New York with Luis Russell and Louis Armstrong. In New York he also put in a lot of time with Sidney Bechet. He spent his final professional years in San Francisco with Earl Hines.

Pops is one of more prominent exponents of slap in early jazz and swing. While he was not the first, he was definitely one of the finest examples of the technique's importance in those styles of music. His drive propelled the bands that featured his talents. That powerful drive came from his dedication to placing each note in its proper place. Paraphrasing the words of the phenomenal guitarist and Pops Foster fan, JD Pendley, "He very clearly illustrates exactly where beats one, two, three, and four are supposed to be." And, he did it with a heavy right hand! Each of those notes was exuberantly slapped, shooting the music forward with definitive might.

Pops Foster didn't really dig into the more complex rhythmic figures found in the playing of Steve Brown, Thelma Terry, or Milt Hinton. He played mostly quarter note lines and didn't stretch too far beyond that in his solos. That said, one can find a handful of examples of magnificent syncopations that further define his strong rhythmic sensibilities.
(A small departure from slap: I might add that his arco playing, while not traditional, further demonstrated his command of drive and strong sense of rhythm!)

Beyond his mastery of drive and rhythm, he built intelligent, interesting, and beautiful lines. In smaller band, less arranged recording sessions and according to stories from his peers, he created lines to agree with the melody rather than relying on arpeggiations of chord tones. He was not shy about starting a line on something other than the root of the chord, he was happy to pedal over two or four bars.
Lastly, it appears that he was well loved by his fellow musicianers as a practical joker and solid cat … a great role model for all of us.

Pops left us with plenty of recorded examples of his mastery. Have a listen to his output with Luis Russell, early Louis Armstrong, and Sidney Bechet. There are also a great many recordings done with other artists in the style; all are spot-on.
Along with those recordings, he gave us a decent glimpse into the history of jazz in his book, "The Autobiography Pops Foster, A New Orleans Jazz Man." It's required reading for anyone entering the world of early jazz listening and performance.

Here are some favorite recordings; each a good illustration of his music.
Jersey Lightning
The Luis Russell gives Pops Foster a great bass feature in Jersey Lightning.
Swing That Music
More of that strong quarter note drive!
Jackass Blues
Under Bechet solo: pedal, triplet, straight under piano's boogie; Under Kamisky's solo: triplet pedal!
Blues My Naughty Sweetie Gives to Me
Two beat on this one. Check out the great syncopated punches!
There'll Be Some Changes Made
Check out his solo around 2:40; simple, but strong and lyrical!