It's not new that major media press doesn't give almost any attention to the slap technique on the upright bass. They either consider it old fashioned, out of style, savage or not worth mentioning. This is why best musicians of this style usually don't get even 1/100 of press coverage of what some mediocre electric slap players get. Having in mind that slap playing on the upright bass is at least 30 years older than electric style, this is even more difficult to understand. Unfortunately the corporate consumerism dictates what magazines are publishing and that creates general taste. Luckily from time to time, some journalists realize that upright slap bassists also have something important to say.
In the most popular bass magazine "Bass Player" there were not so many articles related to slap bass in the last 10 years or so. Oddly enough, they were almost always signed by the same person – Greg Olwell (scroll down to check out some of the titles). You might not be familiar with his name, but if you ever read anything about slap bass in BP magazine, that was most likely written by this man. Journalists are not often interviewed, but his effort to put slap articles in BP magazine gained him a place here.
I'm proud to present to you here, on the Art of Slap Bass, for the first time ever:
GREG OLWELL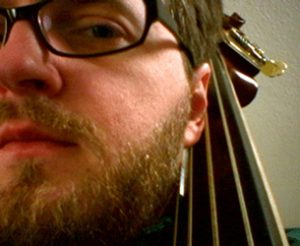 Djordje: Hi Greg!
When did you start and how long did you work for Bass Player magazine?
Greg: I started at Bass Player in December '96 and stayed there until April '08. I began as an administrative assistant helping both the ad sales and edit staffs. It seemed like the edit staff needed me more often than the ad team did and since I gravitated more toward editorial work, I moved over to edit full time in early 2000.
Djordje: What attracts you to the upright slap bass and when did you start writing about it?
Greg: My interest in it actually started from writing about it. I first wrote about slap bass when I interviewed Mark Rubin of the Bad Livers. The Bass Player editor who assigned me the interview, Gregory Isola, suggested that I ask Mark about slap and thought a sidebar from Mark about some other slap players would be a nice addition to the story. At the time, I was just starting to get interested in slap playing and I used Mark's sidebar as a starting point for my regular trips to the record bins.
I bought my first upright around the time of that interview and began to learn everything I could about playing the instrument, including slap, arco, or extended techniques from avant-garde music—I wanted to try it all. Once I started to learn how to slap an upright bass, though, man, I was hooked. I loved it and I loved the rhythmic propulsion and complexity that it added to so much of the music that I was discovering. It seemed like no matter what kind of ensemble or style of music slap upright bass was in, the band was fun and exciting. And, I was interested and excited about how differently every player approached it, like how Pops Foster's style was recognizably different from Willie Dixon's or Marshall Grant's approach. Slap is a potent way for players to express their individuality through technique and leave their stamp on the music. Plus, it's incredibly fun to play and it can make people dance.
Djordje: Even with the rising interest in slap bass, it's still extremely hard to find information about it. What do you think is the reason for the absence of slap bass in major media?
Greg: The simple fact is, bass playing is a niche, upright bass playing is a smaller niche, and upright slap bass playing is an even smaller niche. So, as far as covering slap bass as a style or technique it's left with a pretty small piece of the pie when it comes to the question of, "What are we going to cover this month in the limited space we have?"
So what happens when people aren't getting what they want from the media? They go out and build their own communities, and in the case of upright slap, I think that CD reissues of classic recordings, online forums, and user-posted online videos may have helped save it from extinction.
But, I do understand what you mean and I think some of it comes from the fact that playing styles come and go. Upright slap was in style for a few decades and then it went out of style for a few decades. Outside of a few niches like bluegrass and Dixieland, it seems like slap bass almost disappeared for a while, but it seems like since the mid-'90s many players have rediscovered it and given it a new life.
As someone who is interested in slap bass and tried to cover it in print, I can tell you that it is difficult to explain how to do through writing and still photographs, especially for instruction. As a technique, upright slap is so much about momentum and rhythm that it can be difficult to translate into words or be properly captured on video. Watching videos can help, but nothing seems to open your eyes to it quite like standing near someone playing.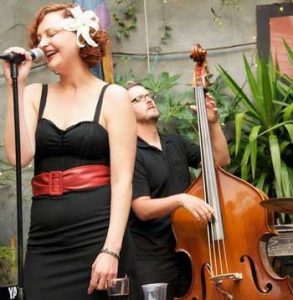 Djordje: You met and interviewed some of the best slap players nowadays. How would you describe their approach to slap bass?
Greg: Lee Rocker is a straightahead player. He's super solid and not particularly harmonically or rhythmically complex, but he swings, he's powerful, and he's focused on the song.
Mark Rubin is versatile and well-versed in the intricacies of playing slap in different styles. He also seems real relaxed when he's playing and that is something important to learn, in my experience. It's so easy to make slap bass playing an athletic event and forget that it's about making music.
Roland Guerin is smooth and sophisticated in his blend of traditional New Orleans playing and a twist of Milt Hinton's right-hand complexity.
And, then there is you, Djordje. You have such a mastery of slap technique and history that you've been able to apply it in many new ways.
Djordje: You play upright bass and bass guitar yourself. Who are your influences?
Greg: As a musician, my playing style is pretty basic and not-at-all flashy. I just want to make it swing and hopefully get the notes right while I'm at it. I'm probably more inspired by other players than influenced by them. Listening to guys like Paul Chambers or Willie Dixon makes me want to pick up my bass, but I'm never going to be able to play like them, so I try to channel that excitement they make me feel into my own playing.
But, a brief list of some bassists who make me want to learn and play are, in no particular order:
Upright
Pops Foster, Cachaito, Mark Rubin, Kevin Smith, Bill Johnson (who's all over so many of those early jazz and blues records), Reggie Workman, Eugene Wright, Bob Moore, Mingus, anyone in Duke Ellington's bands, and so many of those "unknown" guys on early recordings.
Electric
Booker T. & the MGs' Duck Dunn, George Porter Jr. of the Meters, Jane's Addiction's Eric Avery, Flea, the Specials' Horace Panter, Les Claypool, the Cure's Simon Gallup, Norwood Fisher from Fishbone, and U2's Adam Clayton. The last one always seems to cause some eye-rolling, but I feel that Adam doesn't get the respect he deserves as a player. He's totally solid and not afraid to play something not exciting, but when given the chance he'll come up with a very cool bass part.
One player who deserves a shout out for turning me on to a bunch of great old players was Reggie Scanlan of the Radiators. He's mostly an electric bassist, but as I found out when I interviewed him, he's deeply knowledgeable about bass history and super enthusiastic about sharing. He is an invaluable resource, especially for New Orleans-based music. He's also a great guy.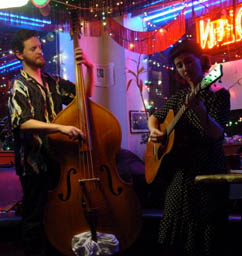 Djordje: Do you like any slap players nowadays?
Greg: Tons! That's the thing, I'm loving how many people are learning it, diving into this style and taking it someplace new or just keeping the old flame burning hot. There has been such an increased interest in American roots styles that have slap bass in them, like rockabilly (and the various –billy offshoots), bluegrass, and swing, that there are now so many more players playing slap. You don't have to go some old time music festival to see it any more, I'm seeing people playing slap at farmer's markets and punk shows.
A lot of credit for slap's reemergence needs to go to two of the players whose playing I love and I think helped to kick-start the slap bass resurgence, Kevin Smith (High Noon, Asylum Street Spankers) and Mark Rubin (Bad Livers). Both spent a lot of time learning what they could from old-timers, developed their own styles in influential bands, and then made a one of the best slap instructional videos. I also like Lee Rocker, who is probably the first person I ever saw beat an upright, he's rock solid and he's writing some of the best roots rock music out there.
And, I have to mention Charnett Moffett, who is playing slap completely differently than any one else. His slap style is more like Larry Graham's electric thumping than a typical upright slap. There are clips on youtube that are worth seeking out. If you ever get a chance to see him perform, go, he's a show-stopper.
There are still a lot of places that slap playing can go and we probably don't even know who the next revolutionary player is going to be.
Oh, and there's this one Serbian guy I saw on YouTube . . . he is amazing.
Djordje: Thank you for finding time to do this interview and hope to read some more articles of yours in the near future!
Greg: Thanks Djordje, it's been a real pleasure.
If you want to ask Greg a question, you can do that on our forum here.
List of slap bass related articles written by Greg Olwell and published in Bass Player Magazine:
August 1999 Mark Rubin – Acoustic Abuse (with Rubin's Recommended Riffs)
September 2001 Marshal Lytle Of Haley's Comets
July 2004 Roland Guerin's Melodic Storyteller (with Lesson: Upright Slap)
May 2005 Charnett Moffett (extended photo caption explaining his use of electric bass thumbstyle slap playing to the upright)
February 2007 How Low Can You Go? An Anthology of the String Bass Review
September 2007 Lee Rocker – Pocketful of Mojo
October 2007 (Recorded June 2007) Bass Player TV Interview with Lee Rocker
October 2007 The Head Cat's Lemmy Kilmister & Djordje Stijepovic